Around the art laneways and the Carnival of Flowers
---
Explore a journey that ventures beyond the bloom with this unforgettable local adventure.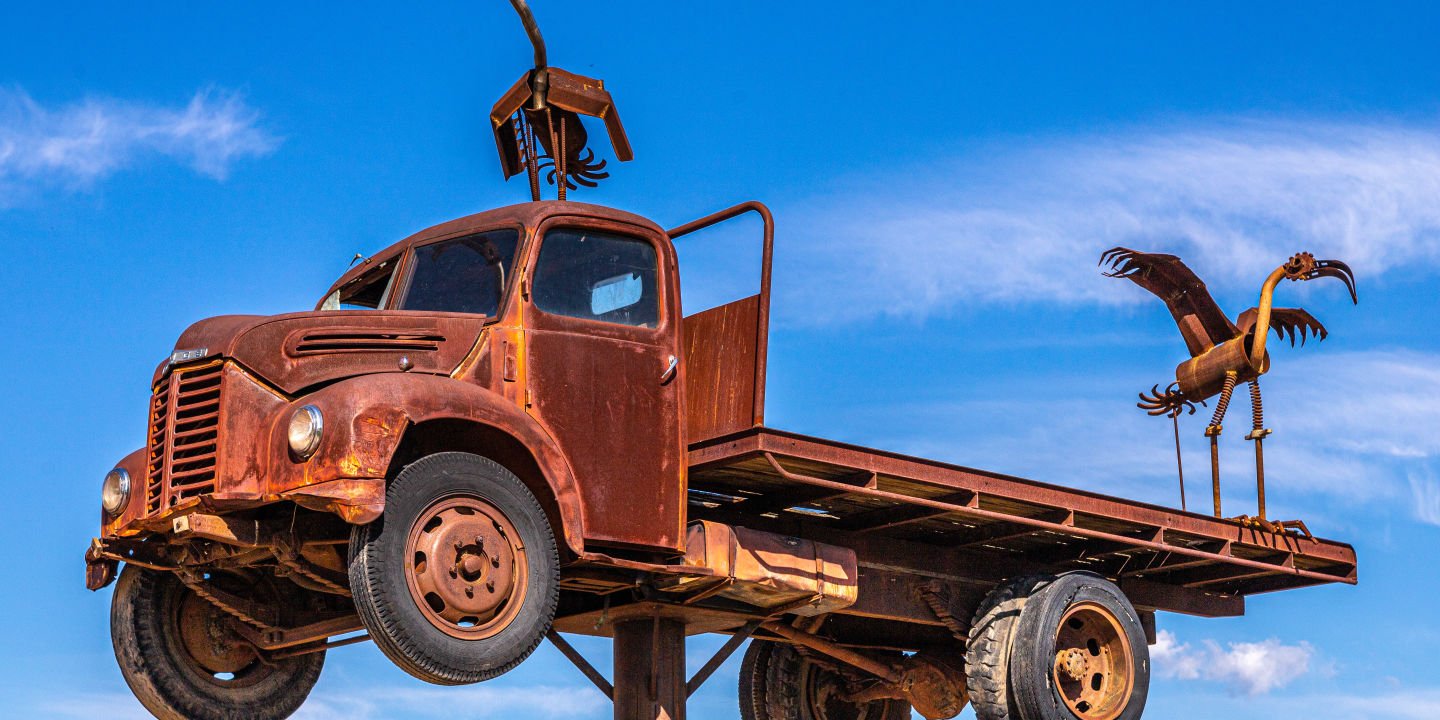 On this tour, the journey begins west of Brisbane, where it's time to escape the city life and venture beyond the ordinary. First stop—Goondiwindi.
The Goondiwindi region is full of surprises. From colourful installations and insightful urban design to the private collection of local artists and residents, you'll discover the inspiration behind some of the town's most loved creative works and take in local highlights along the way. Nungwai' (a private property featuring award winning sculptural works), The Boat Ramp, Bowen Lane, Civic Centre Art Gallery and the Border Heritage Precinct (including The Old Bridge, Gunsynd Memorial and Australian Water Tank Art) are all part of the experience.
As the tour heads towards Toowoomba, you'll get to explore the small rural town of Yelarbon—in particular, you'll discover its hidden silo art outdoor gallery. The overall mural concept titled 'When the rain comes' depicts a young boy at play, cooling off in the Yelarbon Lagoon with a paper boat. The paper boat is made from historical newspaper remnants that were found in the old Yelarbon jail, symbolising the history of the region and the creativity that drives future endeavours.
Did you know that the iconic Grand Central Floral Parade is one of Toowoomba's most memorable events of the year? Here, you'll get to experience the parade, taking in street performers, carnival characters and roving entertainment escort the stunning floral floats on a journey through the heart of the city to Queens Park.
In addition, Toowoomba has been recognised has having one of the best outdoor art museums. With its lit-up laneways, don't forget to bring your camera to capture the stunning artworks or take a selfie (or two!)
Next up, be captivated by the showcase of Carnival of Flowers—a true gardener's haven. The town goes into full bloom with splendid displays and a Floral Parade full of colour, sound, and cheers.
Top off the Carnival with a night of firework displays, which will be lighting up the sky each night.The tour ends with a visit to Ipswich's Nerima Gardens, Japanese gardens designed in consultation with Ipswich's Japanese sister city, Nerima. This idyllic retreat is a wonderful way to wind down or take a break between enjoying its other numerous attractions.
By the end of this tour, you'll be feeling more rested than ever and ready to take on whatever life throws next.
Member price from: $1,705 per person twin share
Departure date:16 September 2021
Booking code: NSTCOF
Locations: Brisbane, Goondiwindi, Yelarbon, Toowoomba, Gatton, Ipswich
Call us on 1300 88 37 50 and quote booking code NSTCOF or send us an email at travel@nationalseniors.com.au