Beautiful Cuba - For Solo Travellers
---
Travel to Cuba and experience the enthralling history of this seductive Caribbean island for solo-travellers-only.
Members from: $2,615 P.P SingleNon-members from: $2,670 P.P Single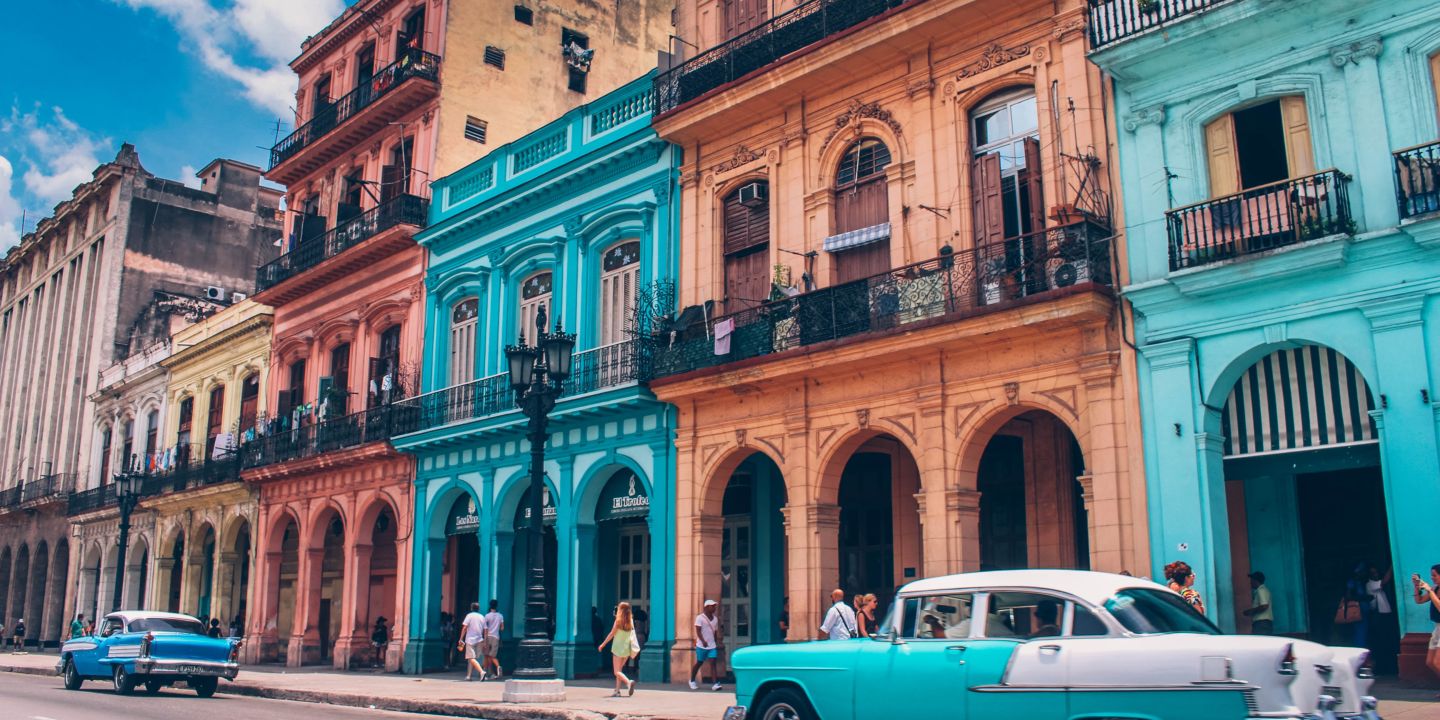 Type

Solo Traveller

Destination

Worldwide

Supplier

Intrepid

Booking Code

STQUKA

Departs

Multiple departures available. Enquire for more details.

Company

Intrepid
Meals: 7 breakfasts, 3 lunches, 2 dinners

Premium Guesthouse (5 nights), Standard guesthouse (2 nights)

Havana - Guided walking tour of Old Havana

Soroa - Orchid garden tour

Vinales - Orientation Walk

Informal Spanish lesson with leader

Vinales - Guided valley walking tour

Vinales - Informal Salsa lesson

Bay of Pigs - Visit & swim

Cienfuegos - Orientation Walk

Cienfuegos - Visit to the Palacio del Valle

Trinidad - Orientation walk

Santa Clara - Visit to Che Guevara Mausoleum and Museum

Havana - Revolution Square
Travel to Cuba and enjoy a relaxing week-long adventure while immersing yourself in the history, culture and natural beauty of this colourful Caribbean island. Cuba's imminent political and cultural change makes it something to experience now before it evolves. Wander through Havana's glittering colonial architecture, soak up the clear mountain air among Soroa's vibrant mountain orchards, relax on Playa Ancon's vast white beaches and admire Trinidad's unrivalled ambience. From old cars to fragrant cigars and with plenty of salsa in between, this trip has it all and is the perfect introduction to all things Cuban.
Why you'll love this trip
A guided walking tour of Old Havana sheds lights on the difference between the lives of city and rural life in Cuba

Take in all the colours and aromas of Soroa, the stunning valley area known as the 'rainbow of Cuba'

Stroll along the rural dirt roads of Vinales as tractors, vintage cars and horse-drawn carriages pass you by

A visit to the Che Guevara mausoleum and museum allows you to learn about the iconic Cuban revolutionary in the right contextTrinidad is a real Cuban treat – step back in time on its old-world streets, then hit some fine palm-flanked beaches

Marvel at the unique architecture of Palacio del Valle in Cienfuegos

Try your hand at traditional dance moves with an informal salsa lesson
Day 1

Day 1: Havana

Bienvenido a Cuba! Welcome to Cuba! A complimentary arrival transfer is included with your trip. Please ensure you provide your flight details to your booking agent at least 14 days prior to travel so the transfer can be organised.

There will be a welcome meeting at approximately 6pm this evening. Please expect a letter from your leader in the afternoon of Day 1 to confirm the place of your meeting (if by 5pm you cannot locate this letter then please ask your guesthouse owner if one has been delivered, or ask to call our assistance line listed in the "Problems and emergency contact information" section of this document). We'll be collecting your insurance details and next of kin information at this meeting, so ensure you have all these details to provide to your leader. The tour briefing is generally followed by an optional group dinner.

As there's a great deal to do in Havana, we recommend staying a few extra days to make the most of this exciting city. If you need help booking extra accommodation, our reservations team will be happy to assist. If you arrive early, please note most activities in Cuba can only be booked through the tourist desk in the lobbies of the larger hotels or direct with the venue. If you don't have the luxury of extending your time in Havana and taking up some of the suggested optional activties listed below, there are plenty of good museums to check out before your welcome meeting, including the Museo de la Revolucion and the Museo Nacional de Bellas Artes.

Day 2

Day 2: Soroa – Vinales

Enjoy a walking tour of Old Havana, a perfect first taste of the city. Your local guide will show you the cathedral, Plaza de Armas, San Francisco de Asis, Plaza Vieja and Central Park. Later you'll make the drive to Soroa, a lush enclave nestled in a beautiful valley. You'll stop in for lunch and tour the orchid garden there. Continue to lovely Vinales, where tobacco and agricultural fields lie side by side and limestone outcrops dot the landscape. The scenery here is some of the most picturesque in Cuba. There are many ways to take it all in, including cycling, walking through tobacco fields and hiking to mountain caves (all optional activities).

Day 3

Day 3: Vinales

A walking tour of the farmlands and crops is included today. Learn more about the simple lifestyle here and see first hand the farmers who grow tabacco for some of the most expensive cigars.

Vinales is a small and charming rural village. It's probably the easiest place to mingle with locals in Cuba, who are very sociable. Many of them love nothing better than to drink rum and dance the night away. An informal salsa lesson is included so you are confident to be involved. Later head to an ecological farm for an included dinner.

Day 4

Day 4: Bay of Pigs - Cienfuegos

Head towards Cienfuegos today, it is a long travel day. You will be stopping via the Bay of Pigs not only to enjoy the stunning surrounding but to learn more about the botched US Military counter-revolutionary invasion, and you could even opt for a swim in the crystal clear water.
Then the short drive to your destination for the night, Cienfuegos. This is the gem of the south, a seaside town of relaxing streets and dazzling buildings that strike a beautiful pose by the water. You will enjoy a photo stop at Palacio del Valle, which is Cienfuegos' architectural pride and joy. Learn more about its history as you take in the beauty of its intricate carvings of Venetian alabaster. If you haven't done so already, perhaps try some Cuban coffee while you're here – it's served black, strong and super sweet.

Day 5

Day 5: Trinidad

Today you will board the bus for a short drive to Trinidad. There's no doubt it's one of Cuba's alluring destinations, a great place to wander around, with almost every scene offering a photo opportunity. Watch as locals casually smoke their huge cigars on the doorsteps of their homes, and hear the old Chevrolets rumbling by. Kick things off by strolling along the cobbled streets and marvelling at some of the colourful colonial architecture on display (this town was put on the UNESCO World Heritage list in 1988 for good reason).

Day 6

Day 6: Trinidad

Enjoy a day of free time. There are some great Spanish-style churches to see, and nearby is the Valle de los Ingenios, where sugar plantations stretch out as far as the eye can see. For some seaside fun, head down to Playa Ancon and stroll its long stretches of white sand. You can go for a snorkel too. Just be careful when you're in the water, as sea urchins can be a problem here. Back on the land, you can go cycling or hiking. If you rent a bicycle, be careful on the cobblestones, and remember your bike will be of the vintage variety. The trekking is great in the Sierra del Escambray, the local mountains. A folklore dance and music show in one of the open-air venues is highly recommended – a great chance to immerse yourself in Cuba's African, French and Spanish-influenced music and dance culture.

Day 7

Day 7: Santa Clara - Havana

On your way back to Havana, you'll stop in at Santa Clara to visit the Che Guevara mausoleum and memorial. In the museum you can get a rare insight into the legacy of the revolutionary leader, with some interesting ephemera and artefacts on display – letters, firearms, even medical devices. Upon arrival in Havana, stop by Revolution square then prepare for a final night of celebrations.

Day 8

Day 8: Havana

Your trip comes to an end this morning after breakfast. Check-out time is 10 am.
1. This trip is for solo travellers only. If you're planning an adventure with a friend, family member or partner, we've got heaps of other trips you can travel on! If you're planning to travel on your own, with a group of other solo travellers, this trip might be just what you're looking for.
2. Your adventure begins with a welcome meeting at 6pm on Day 1. There are no activities planned for the final day so you may depart at any time.
3. To have a private room on this trip, a single supplement is bookable; subject to availability.
4. A complimentary airport arrival transfer is included; valid if you are arriving on Day 1 or if you have booked pre-tour accommodation through us. You must provide your flight details to your booking agent at least 14 days prior to travel.
5. The airport arrival transfer driver will know the address of your assigned guesthouse. If you have not booked the transfer prior to departure, or will not utilise it due to independent plans, please ensure you ask your booking agent inside 7 days of departure for your confirmed guesthouse name and address.
6. Guesthouse and rooming allocations are finalised inside a week from departure based on the configuration of each travelling party. Please advise bedding configuration requests to your booking agent at least 14 days prior to travel.
7. A visa or tourist card, organised prior to arrival, is required for all nationalities visiting Cuba.
8. The Cuban government has declared that travel insurance is compulsory for all travellers. Proof of insurance may be requested at Havana Airport by immigration officials.
9. There are unprecedented changes happening in Cuba right now. It is an exciting time but it also means some patience and understanding is required for the heightened demand of infrastructure, accommodation and services. To help set your expectations correctly, please read the 'Is this trip right for you?' and 'Joining point description' sections in the Essential Trip Information Document.
10. Hurricane season in this region is June to November, when landslides, mudslides, flooding and disruptions to essential services can occur. Intrepid monitors any situations that arise, and may need to change itineraries or activities in response to these natural weather occurrences.