Taste of Tuscany
---
Our Taste of Tuscany tour is by far one of our most popular, with our guests frequently commenting on just how far the experience surpassed their expectations.
Members from: $3,675 P.P Twin ShareNon-members from: $3,750 P.P Twin ShareSolo traveller from: $4,200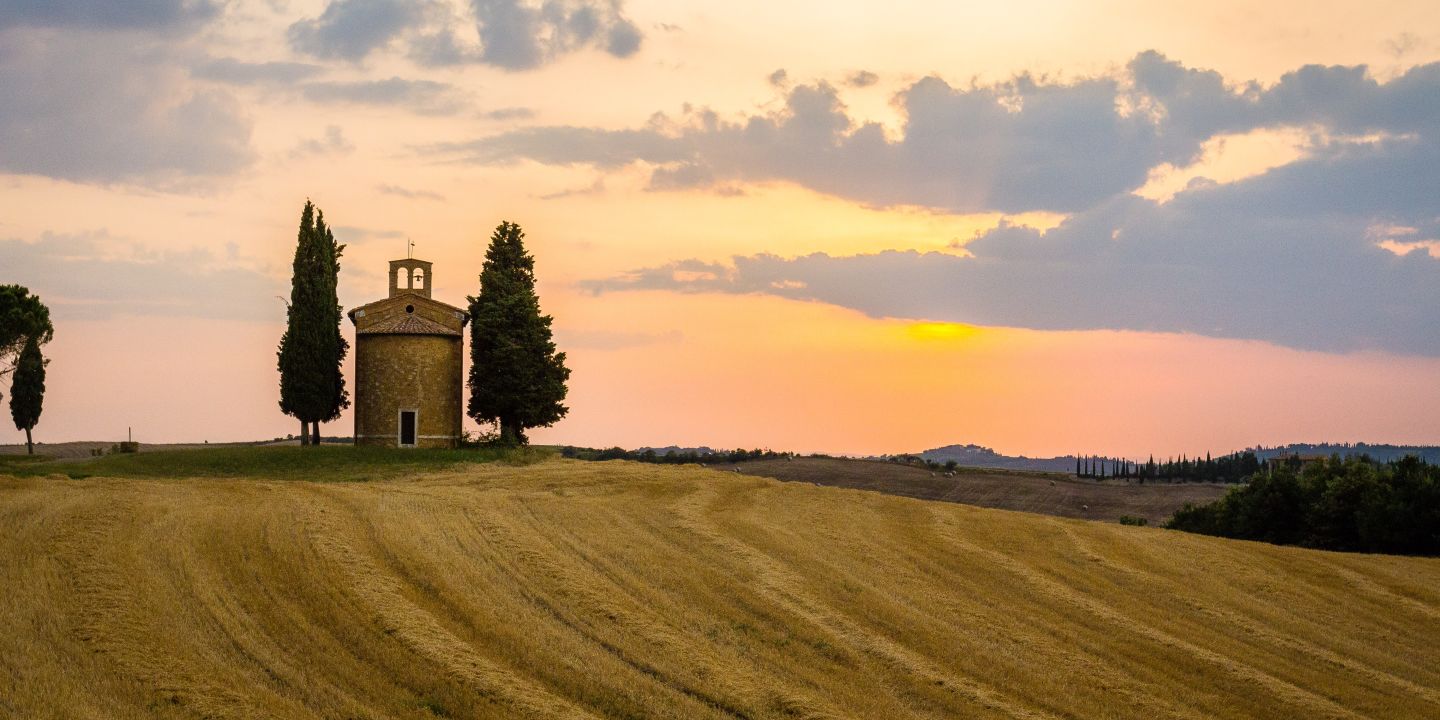 Type

Escorted Touring

Destination

United Kingdom & Europe

Supplier

Tours of Tuscany

Booking Code

TTTT

Departs

Multiple departures available. Enquire for more details.
Seven nights in a traditional farmhouse complete with modern amenities

Our bilingual hosts and tour leaders will be on hand throughout the tour to assist you

We've taken care of the itinerary, so that you can sit back and ingratiate yourself with the Tuscan lifestyle

Your apartment will be stocked with all necessary provisions for breakfasts

Three unique lunches are provided throughout the duration of your trip

You'll get to enjoy six dinners at local Trattorie where wine is included

Take part in our exciting guided walks across the stunning towns of Cortona and Siena

Take part in an exciting, first-hand cooking session with fresh, locally sourced ingredients

For fans of wine tasting, we have a selection of events to take in at local vineyards and establishments

Your trip will include all necessary travel to and from your accommodation

On days where no tours are scheduled, we'll transport you to the local station so that you can explore at your own pace. You'll also have the option to be taken to Cortona on a tour-free day

We'll also ensure that you are collected from the station on arrival, and taken back safely ready for your return home
With a first-hand look at some of the most vibrant and traditional locations in Tuscany, from Cortona to Siena, you'll have the opportunity to indulge in the finest wines, partake of the local cuisine and even stimulate your culinary skills with a 4 course cooking lesson.
For fans of bareback horseracing, you'll be pleased to hear that you can see where the famous Il Palio race takes place in the iconic Piazza del Campo. We'll also be exploring the fabled town of San Gimignano which produces the exemplary white wine known as Vernaccia. Your tour will also take you into the heart of Chianti's countryside, where you'll get up-close and personal with vineyards and olive groves.
This tour is guaranteed to satisfy your senses in many ways; with exhilaratingly authentic tastes from the region, right through to the stunning sights found throughout.
You'll get to ingratiate yourself with the local artisans and craftsmen and women, visit a host of vineyards, taste fine food and wine, explore captivating locations and villages that date back to the medieval period – and perhaps most importantly of all; feel like a local and not a visitor.
All of this and more can be enjoyed from the comfort of your own villa, with a leisurely pace to your tours and options to book between the 28th of March through to the 24th of October. As new tours commence every Saturday, you can ensure that you get a full week of enjoyment – suitable for adults of all ages.
You'll be personally picked up and transported to your accommodation. Once back at the villa, you'll be given the opportunity to unwind and settle in. For dinner, we'll take you into Cortona where you can enjoy your first traditional Tuscany dining experience.
To get the first full day of your tour off to an exciting start, we'll head into the nearby town of Cortona; where we have plenty of things for you to see and do! Our enthusiastic tour guide will take you on an enjoyable walk of the town, with coffee included. To integrate you with the Tuscan lifestyle, you'll experience lunch at a
local trattoria. With your stomach full, you'll have the opportunity to sit and relax to your heart's content or explore the town in greater detail. Mid-afternoon if you feel ready to return to your apartment, we'll give you the option to be collected and transported at this time. If you chose to stay in Cortona or travel back home to the villa - we'll meet back up and take you into town in preparation for your evening meal. What better way to savour the flavours of Cortona than with a traditional aperitivo in the Piazza, followed by dinner!
Day 3: San Gimignano and Siena
San Gimignano is a town so iconic that you have to see it to truly believe it - and this is where we'll be headed at 9am. Upon arrival we'll have a brief coffee break and you will be given an overview of the town and its rich history. Shortly after your introduction, you'll have free time to explore, ingratiate yourself with the locals and partake in activities at your own leisure. We'll then travel to Siena, where you'll meet your tour guide who will fill you with knowledge, expose you to the traditional lifestyle and allow you to get to grips with the town first-hand.

To allow you to take in as much as possible, you'll have a little more free time before your evening meal. For dinner, you'll be taken to one of the local restaurants in Siena, where you'll get to taste the mesmerising flavours of the Sienese cuisine .
Day 4: Lazy morning and cooking experience
For fans of cooking, this part of your tour will introduce you to the art of making Italian cuisine. You'll have the opportunity to enhance your culinary skills with a Traditional Tuscan Cooking Class where you'll prepare four courses and then get to enjoy eating with the chef.
Day 5: Pienza and Montepulciano
Featuring 15th Century architecture, Pienza is the next town on your tour and it's as stunning as it is traditional. We'll take a quick break for coffee, before allowing you the opportunity to explore the town in greater detail. At 12:30pm, we'll transport you to Montepulciano where we will enjoy lunch and wine tasting - which takes place in a traditional underground cellar.

You'll then have some free time to enjoy. You can spend it viewing the stunning scenery, taking photos, or talking to the locals to name just a few options. At 5pm, we'll take you back to your accomodation where you can unwind for a couple of hours before dinner.

Your visit to Tuscany wouldn't be complete without an authentic pizza, so we'll head back to Cortona to enjoy this traditional Italian meal in style!
This morning we have an exciting tour of Chianti on the cards. We'll be stopping in Castellina for a coffee and the exhilirating opportunity to explore the town and all it has to offer. We then have an long Italian lunch and tasting session planed at an
exquisite organic winery, where you will meet the winemakers and learn more about the stunning area.
As your tour slowly comes to an end, we allocate this time for you to choose the types of activities that you'd like to partake in - from exploring the nearby area or vespa tours, to relaxing by the pool. Whatever you choose to do, we'll ensure that you're back in time for a traditional Italian Aperitivo, followed by a farewell dinner to mark your visit.
In the morning, we'll take you back to the local station where you can commence your return journey with plenty of Tuscan memories to savour for a lifetime.
Prices shown are per person, double occupancy. A single supplement of $450 will apply to single occupancy. The deposit is 25% of the overall tour price, or as listed on the tour registration form is required at time a booking is confirmed. No booking will be reserved until the prescribed deposit is received. Balance of the payment will be due within 30 days of booking confirmation. Deposits and balance payments are accepted by bank wire electronic transfer. Wiring banking instructions will be sent to you after we have received your Booking Confirmation form. After your deposit has been accredited we will send you an invoice with the due date for the balance of payment. Should your final payment fail to reach us by the date specified on your invoice, we reserve the right to cancel your booking without refund.