Costa Rica & Panama Discovery
---
Travel through the tropical paradise of Costa Rica and Panama
Members from: $1,259 P.PNon-members from: $1,284 P.PSolo traveller from: $1,729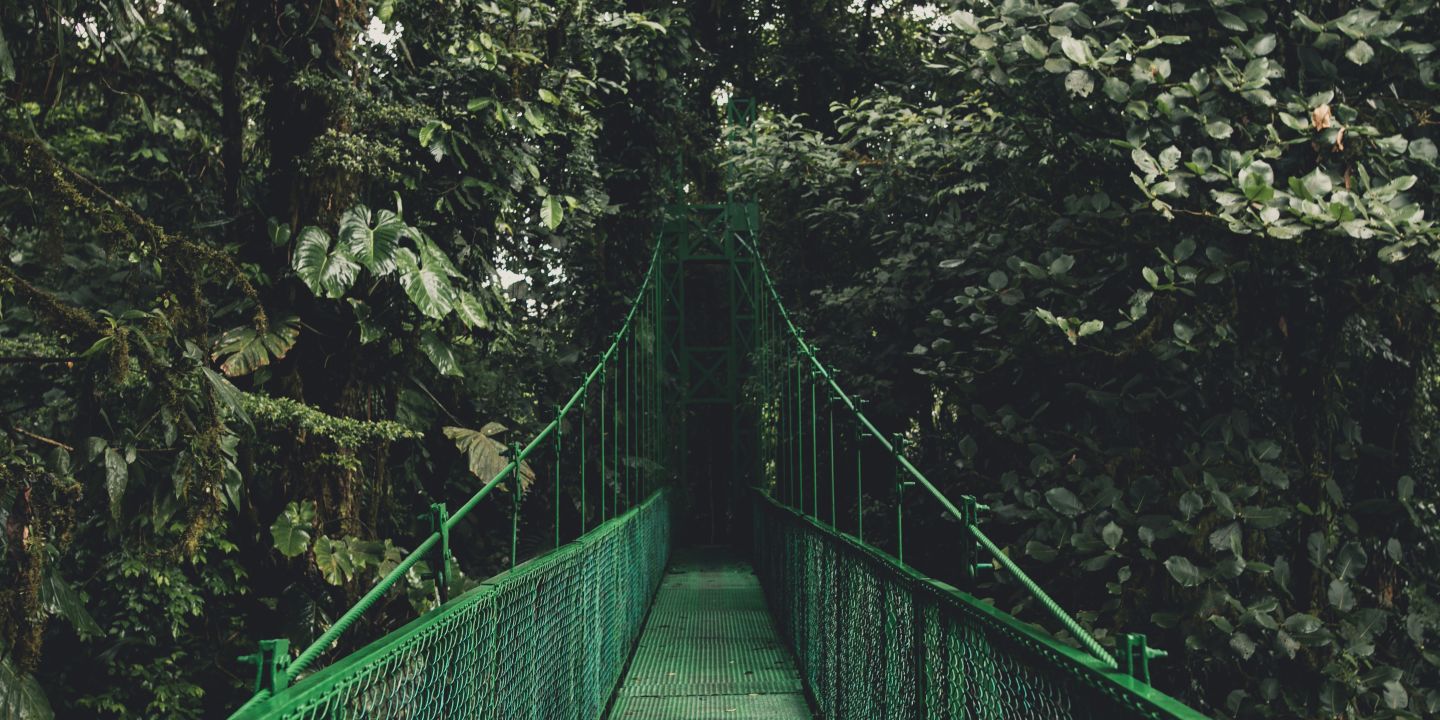 Type

Escorted Touring

Destination

South America

Supplier

Intrepid

Booking Code

QVRC

Departs

Multiple departures available. Enquire for more details.

Company

Intrepid
Adventure-lovers rejoice! Here is a trip that delivers pure beach bliss, idyllic islands, curious creatures and small towns packed with charm. First travel to Costa Rica to uncover cultural gems in San Jose and Puerto Viejo de Talamanca, then journey on to Panama for an intoxicating mixture of relaxation and adventure. Costa Rica and Panama are the very essence of Central American coastal beauty and this tour certainly catches them at their best.
Why you'll love this trip
Who hasn't dreamt of snorkelling, sun-baking and cocktail-sipping in the Caribbean? Enjoy plenty of time to do just this in Puerto Viejo de Talamanca, as well as seeing sloths, racoons and monkeys in nearby Cahulta National Park

Dial the relaxation up a notch in Bocas del Toro, Panama, spending several nights on nearby Isla Bastimentos. There may be no roads or cars here, but there are plenty of mangroves, turtles and white sandy beaches

Waterfalls, wildflowers, hot springs and mountains - beautiful Boquete has it all. Tour a coffee plantation, ride a bike along a river or take a relaxing walk through the forest, keeping an eye out for tricksy monkeys and tropical birds

Get off the beaten track and ride the waves in surfy Santa Catalina. If you'd prefer to stay dry, there's a beachside hammock with your name on it

Explore the eclectic streets of Panama City and admire the engineering masterpiece of the Panama Canal
Day 1

Day 1: San Jose

Bienvenidos a Costa Rica! Welcome to Costa Rica!
Your adventure begins with a welcome meeting at 6pm today. Please look for a note in the hotel lobby or ask reception where it will take place. If you're going to be late, please inform the hotel reception. We'll be checking your passport details, insurance details and next of kin information at this meeting. If you can't arrange a flight that will arrive in time, you may wish to arrive a day early so you're able to attend. We'll be happy to book additional accommodation for you (subject to availability).

As this trip spends very little time here, we recommend arriving a day or two earlier to see the sights or take an Urban Adventure with an expert local guide. Home to over half the country's population, San Jose is a bustling city with lively markets, intriguing museums and a dynamic atmosphere. Otherwise, a good place to start is the main plaza. Artisan booths are common here, so you never know when an art fair will pop up. The Gold Museum has an amazing collection of indigenous gold art. If you're in the mood for a bit of shopping, head to the outdoor market in the Plaza de la Cultura or the city's Central Market, where you can buy anything from handicrafts to seafood.

Day 2

Day 2: Puerto Viejo de Talamanca

Today take a five-hour local bus to Puerto Viejo. A small town on the beautiful Caribbean coast, Puerto Viejo de Talamanca has two sides to it. The main street has a party vibe, featuring dancehall/reggaeton bars and modern restaurants, while further out you'll find great surf beaches, rainforest fruit farms and family homes. The area is home to a mix of Rastafarian, European and indigenous populations. The next two nights will be situated here.

Day 3

Day 3: Puerto Viejo de Talamanca

If you wish, take your time to explore Cahuita National Park, which is easily accessible from Puerto Viejo. Wander through the park on the lookout for sloths, monkeys, raccoons, snakes and a great variety of birds. While entrance to the park is free, you will be asked for a donation. You can also visit a jaguar rescue centre or wander through the Kekoldi Indigenous Reserve, which is home to birds of prey and medicinal herb gardens. Back in town, consider hiring a bike for the day or hitting the waves for a surf lesson.

Day 4

Day 4: Bocas del Toro / Isla Colon

Take a one-hour local bus to the border, then walk across an old railway bridge into Panama. Continue by taxi or collective minivan to Almirante, where you'll take a short boat ride to Isla Colon in the Bocas del Toro archipelago. Rapidly becoming a Caribbean favourite, Bocas del Toro has it all - palm-shaded beaches with crystal-clear water, spectacular snorkelling and lots of wildlife. Culturally, Bocas is a melting pot of West Indians, Latinos and expats, resulting in diverse music, nightlife and food scenes.

For the next two nights, stay on Isla Colon, the main town in Bocas del Toro and a great spot from where to start your exploration of the archipelago, with most bars, restaurants and local operators located on 1st, 2nd and 3rd street - meters from your hotel.

Day 5

Day 5: Bocas del Toro

There are several beaches within reach from town - between 8 and 14km from your hotel. However, be aware, apart from Starfish, Sandfly and Big Creek beaches, the rest can have very strong riptides.

When the sun goes down, head into town and check out the local bar and restaurant scene. There's no place better to live la vida loca than the Caribbean.

Day 6

Day 6: Boquete

Travel by boat and local bus to Boquete, keeping in mind that total journey should take eight to nine hours. Boquete is a picturesque town located in the highlands of Panama, surrounded by mountains, crystal-clear creeks and rivers, forest reserves, wildflowers and fauna such as howler monkeys and the resplendent quetzal.

Your hotel is located a short drive away from Boquete. Feel free to relax and enjoy the beautiful scenery around the property, which has its own bar and restaurant. There is a free shuttle into town a few times a day and most optional activities can be organised directly from the hotel.

Day 7

Day 7: Boquete

Today and tomorrow are free for you to explore Boquete. The area surrounding the town is famous for its coffee. While here, consider taking a visit to a coffee plantation or kicking back in town with a cup of the local brew.

Day 8

Day 8: Boquete

Today, perhaps take a guided bike tour or check out the mini canyons and hidden waterfalls outside of town – maybe even soak your muscles in the local hot springs.

Day 9

Day 9: Santa Catalina

Catch an eight-hour bus to Santa Catalina, situated on the Pacific coast of Panama. This small fishing village is still a very remote, undeveloped destination and offers some of the best surfing in Central America.

Day 10

Day 10: Santa Catalina

Aside from surfing, the main pastime in Santa Catalina is relaxing, preferably in a hammock. Enjoy a free day around the area and hunt down some activites in the process. Keen for something active? Perhaps take a trip out to Coiba National Marine Park, where you can snorkel with turtles, angel rays and schools of colourful fish. Alternatively, half-day fishing trips or surfboard bire is available in the town. Lessons are readily avaialble, so there's no reason to fear the waves.

Day 11

Day 11: Panama City

Today, leave the beach and travel by local bus for approximately six hours to Panama City. Panama City is Central America's glitziest with plentiful dining and drinking hotspots. Perhaps mark your first evening in Panama City with a night on the tiles at a samba club.

Day 12

Day 12: Panama City

Today is free for you to discover Panama City. Explore the historic Casco Viejo, or old town, which features an unusual combination of restored buildings, low-income housing, churches and ruins. You may also like to visit the engineering marvel of the Panama Canal or take a stroll through the rainforest in the Metropolitan Nature Park. Panama City is also famous for its shopping centres, the biggest being Albrook Mall. For more traditional souvenirs, head to the National Artisan's Market.

Day 13

Day 13: Panama City

Your adventure ends today. There are no activities planned for the final day.
1. Your adventure begins with a welcome meeting at 6pm on Day 1. There are no activities planned for the final day so you may depart at any time.
2. A single supplement is available for purchase on this trip, except on Days 10 & 11 in Santa Catalina where you will be in shared accommodation. Please speak to your booking agent for further information.
3. Please be careful when booking flights to/from San Jose; make sure you fly into/out of Juan Santamaría International Airport [SJO]. Please do NOT book flights to/from Norman Y. Mineta San Jose International Airport [SJC] as this is located in California, United States.
4. Hurricane season in this region is June to November, when landslides, mudslides, flooding and disruptions to essential services can occur. Intrepid monitors any situations that arise, and may need to change itineraries or activities in response to these natural weather occurrences.

2019 CHANGES: From 1 January 2019 the starting day of this trip will change as well as a minor itinerary change. To adjust the combination trips slightly, this trip will now depart on Wednesdays and Saturdays. These changes come as a result of our traveller's feedback that they prefer more time at a beach destination over an inland destination. We have replaced 1 night in Boquete with an extra night in Bocas del Toro. 2019 departures are not guaranteed for this reason as yet.