San Francisco & Mississippi Steamboat Cruise
---
Explore San Francisco then enjoy a luxurious voyage down the Mississippi River, concluding in multi-cultural New Orleans.
Members: $10,300 P.P Twin ShareNon-members: $10,499 P.P Twin Share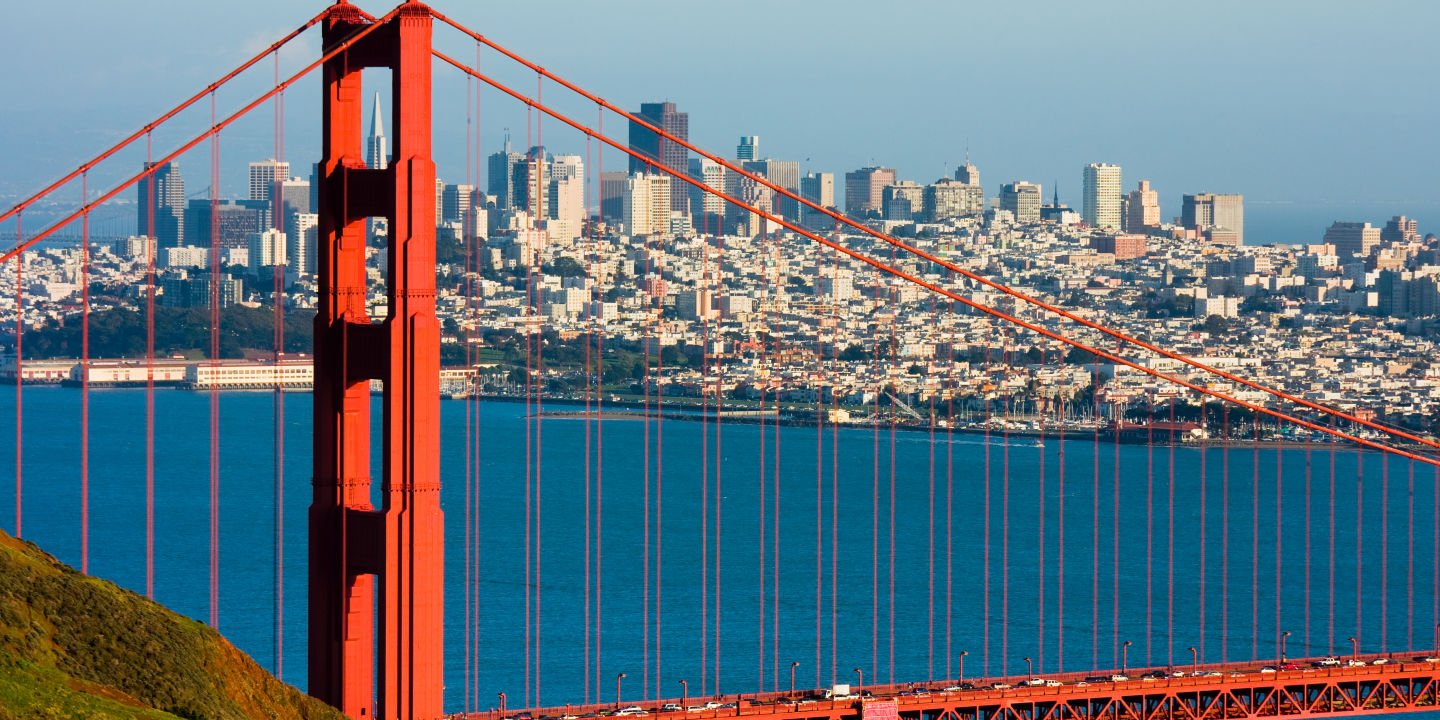 Type

River Cruise

Destination

Canada, Alaska & USA

Departs

19 September 2018
Return flights from your nearest international airport.

Transfer from San Francisco Airport to your accommodation.

4 night stay in San Francisco at the Intercontinental San Francisco.

3 day San Francisco City Pass.

Transfer from your accommodation to San Francisco Airport.

One way flight from San Francisco to Memphis.

Transfer from Memphis Airport to your accommodation.

9 night Mississippi River tour aboard American Duchess cruising from Memphis to New Orleans. Includes on board meals and entertainment and 1 night pre-cruise stay at the Peabody Hotel in Memphis.

2 night New Orleans City Stay package including accommodation at Le Meridien, breakfast daily and touring
Discover the cultural attractions, diverse communities, world class cusine and iconic landmarks of San Francisco.  Immerse yourself in the history and heritage of Vicksburg.  Experience Narchez, a charming river town and the oldest city on the Mississippi. Explore 7 New Orleans main attractions at your own pace with an exculsive pass.
Day 1

Wednesday 19 September Upon your arrival into San Francisco you will be transferred from the airport to your accommodation. Accommodation: Intercontinental, San Francisco - 4 night stay

Day 2

Thursday 20 September The best way to see the main attractions in the 'City by the Bay', is with your CityPASS. Your CityPASS includes the Cable Car and Muni Bus Passport, California Academy of Sciences, Blue & Gold Fleet Bay Cruise Adventure, Aquarium of the Bay and Exploratorium or de Young Museum

Day 3

Friday 21 September Continue using your CityPASS today.

Day 4

Saturday 22 September Make the most of your last CityPASS day today.

Day 5

Sunday 23 September San Francisco - Memphis, TN This morning you will be transferred from your accommodation to San Francisco Airport to board your flight to Memphis. Upon your arrival into Memphis you will be transferred from the airport to your accommodation. The evening is yours to get acquainted with this city's famed eateries, unique shops and lively entertainment. An American Queen Steamboat representative, as well as a local representative, will be readily available to provide you with dining, entertainment, and sight-seeing suggestions so that you may maximize your time in Memphis. Accommodation: Peabody Hotel - 1 night stay

Day 6

Monday 24 September Memphis, TN This morning begin an exclusive adventure through Memphis' highlights before continuing to the vessel to board this afternoon. It's time to start your voyage and begin a luxurious voyage down the Mississippi River. Included meals: breakfast & dinner Accommodation: American Duchess - 7 nights on board

Day 7

Tuesday 25 September Helena, AR In the Valley of Crowley's Ridge, sits the small town of Helena, Arkansas. Helena dates back to 1833, and was once a bustling, thriving southern city. Today, Helena would seem to some as a town that time forgot. While the rest of the country was building shopping centres and interstate systems, Helena struggled to stay afloat amidst all of the progress. Big changes drew small businesses away from Main Street U.S.A. and into strip malls. Convenience took over, where simplicity once stood. Today, Helena is in the throes of a revival. With quirky boutiques, unique stores and a historic musical past, Helena remains proud of the life they continue to successfully sprout from the ruins of the past. For in through the dust and rubble, new life for this determined Southern town is emerging. Included meals: breakfast, lunch & dinner

Day 8

Wednesday 26 September Vicksburg, MS Vicksburg perfectly blends Southern culture and heritage with exciting modern-day attractions. Described as the "Key to the South" by Abraham Lincoln, this southern town carries a history unlike any other Civil War city. Vicksburg was founded in 1811 and grew as a vital river port city. It was a major component to the Civil War and carries much of the history within the town. Today, Vicksburg is a popular spot for tourists to learn about the battles of the city, taste the cuisine, visit the many museums, and pick out the perfect souvenir. Included meals: breakfast, lunch & dinner

Day 9

Thursday 27 September Natchez, MS This charming river town was first inhabited by Natchez Indians and French explorers who shared the land. It was founded in 1716, making it the oldest city on the Mississippi. The city is known for its elegance, hospitality, and impressive preservation of history – found on every street corner throughout Natchez. Guests enjoy the unique shops, restaurants, museums, and historical homes located in Natchez, all of which contribute to Hugh Bayless' book, "The 100 Best Towns in America." Included meals: breakfast, lunch & dinner

Day 10

Friday 28 September Baton Rouge, LA Baton Rouge, the Capital of Louisiana, has a deep culture and rich history. Named by French explorer, Sieur D'Iberville after a reddish pole marking two separate tribal hunting grounds, Baton Rouge has transformed into a rich cultural city. Locals speak a specific version of French in their everyday language. The city is home to Louisiana's capitol building which is the largest in the United States, as well as the Old State Capitol – a Gothic architectural monument located on the bluffs overlooking the Mighty Mississippi. Spend the day exploring all that Baton Rouge has to offer, from the museums and the architecture, to the shops and the cuisine – everyone will enjoy an exciting, busy day! Included meals: breakfast, lunch & dinner

Day 11

Saturday 29 September St. Francisville, LA Established in 1809, St. Francisville is the oldest town in the Florida Parishes. Below where St. Francisville is located currently, was a settlement called Bayou Sara in the 1790's. When this settlement was destroyed by flooding and fires, many of the structures and artifacts were hauled up the bluff into St. Francisville, where they are still standing. Stop in at one of the unique shops, historical homes, beautiful churches, or breathtaking parks and you will agree with that! Spanish moss trees grow throughout the town, which creates a beautiful southern comfort to the atmosphere. Included meals: breakfast, lunch & dinner

Day 12

Sunday 30 September Nottoway, LA Nottoway is the South's largest, most glorious remaining Antebellum mansion with a rich history dating back to 1859. In a fabulous location along the great River Road overlooking the grand Mississippi River, this "White Castle" of the South transports visitors back to an era of glory and grandeur. Set amongst a natural backdrop of vibrant gardens and two hundred-year-old oak trees, Nottoway Plantation captivates all with a brilliant blend of true Southern hospitality, history and mystery. Included meals: breakfast, lunch & din

Day 13

Monday 1 October New Orleans, LA This morning you will arrive into New Orleans and disembark. Join your 4-hour guided tour and experience New Orleans' rich historic past and eclectic beauty, a fantastic city dubbed "The Big Easy". Your tour includes views of breathtaking sights throughout the French Quarter, Jackson Square, Garden District, St. Charles Avenue and City Park, a stop at City Park for a beignet and cup of coffee at The Morning Call coffee shop and a stop at St. Louis Cemetery #3 to view the ornate tombs. You will be dropped at your accommodation at the conclusion of your tour. Included meals: breakfast Accommodation: Le Meridien, New Orleans - 2 night stay

Day 14

Tuesday 2 October Make the most of your attraction pass and Jazzy Pass (public transit streetcar) and get out and about in the city today and experience the best of this amazing city. This evening enjoy a New Orleans traditional dining experience at Brennan's Restaurant in the heart of the French Quarter. Included meals: breakfast & dinner

Day 15

Wednesday 3 October This morning farewell your fellow travellers and join your transfer from your accommodation to New Orleans Airport for your scheduled flight back to Australia. Upon your arrival into your home airport, you will be transferred home. Included meals: breakfast
Price based on 19th September 2018 departure. The prices, dates and information supplied are valid at the time of the web page going live, however prices and itinerary are subject to change or may be withdrawn at any time. Please confirm all details and final cost with your consultant at the time of booking. Product is supplied by Holidays of Australia & the World. For full terms and conditions please contact your travel consultant or refer to the terms and conditions on the supplier's website.