Tassie's Parks & Nature
---
On Tasmania's West Coast discover Russell Falls, the dark waters of the Gordon River, and the pristine beauty of Cradle Mountain and Lake St Clair.
Members from: $2,779 P.PNon-members from: $2,835 P.PSolo traveller from: $3,505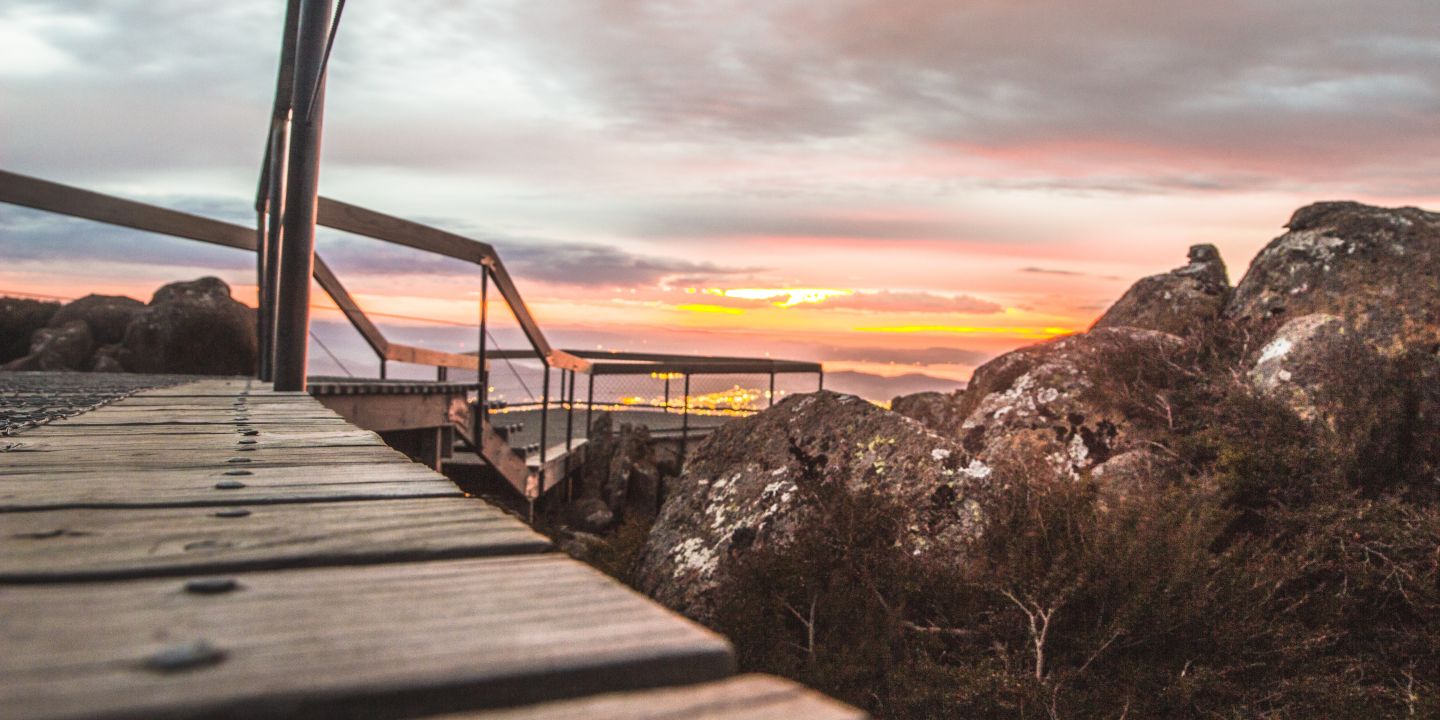 Type

Escorted Touring

Destination

Australia

Supplier

AAT Kings

Booking Code

THHL

Departs

Multiple departures available. Enquire for more details.

Company

AAT Kings
Explore Hobart's city sights

Discover Salamanca Market

Visit spectacular Russell Falls

Lunch cruise on the Gordon River

Hike by Dove Lake at Cradle Mountain

Explore the town of Sheffield

Indulge in local cheese at Ashgrove Tasmanian Farm

Visit Hellyers Road Distillery for Whisky Walk

Savour Tassie's food and wine at Josef Chromy
On Tasmania's West Coast discover Russell Falls, the dark waters of the Gordon River, and the pristine beauty of Cradle Mountain and Lake St Clair. Visit historic Hobart and riverside Launceston in the north. The island state's artisan produce is justly famous – enjoy delicious gourmet cheeses and elegant cool-climate wines.
Begin your exploration of the beautiful island of Tasmania with a tour of its capital. Get to know your travelling companions tonight at a Welcome Reception and dinner.
A free day to enjoy the colour and action of Salamanca Market. Explore the market stalls, wander through the historic sandstone warehouses discovering innovative Tasmanian arts and crafts and delight in the taste and aroma of freshly baked goods and local produce.

Included Meals: Breakfast
Join your Travel Director this morning for a stroll through lush rainforest to the tiered falls of picturesque Russell Falls. Continue to iconic Lake St. Clair before travelling on to see The Wall in the Wilderness, a monumental hand-carved sculpture depicting a series of scenes that commemorate those who have shaped the area's past and present. Pass through the eerie moonscape of the mining town of Queenstown before reaching the coastal town of Strahan.

Hotel: Strahan Village
Included Meals: Breakfast, Dinner with wine
Day 4 Strahan – Cradle Mountain
A highlight today is your cruise on the spectacular Gordon River. Stop at Sarah Island for an insight into a relic of Tasmania's convict history. See Hells Gates, the treacherous entrance to the Macquarie Harbour and Heritage Landing, site of the 2,000 year old Huon Pine. Travel through the old towns of Rosebery and Tullah as you make your way to your hotel set on the edge of sensational Cradle Mountain National Park.

Hotel: Cradle Mountain Hotel, 2 nights
Included Meals: Breakfast, Lunch, Dinner
This morning, marvel at the beauty of Cradle Mountain National Park on a guided tour. Then, join your Travel Director for a walk by Dove Lake, maybe talking your time to meander back to your hotel along the purpose built boardwalk through the alpine heathlands. For a more challenging hike, head to Marion's Lookout and return via Wombat Pool.

Included Meals: Breakfast, Dinner with wine
Day 6 Cradle Mountain – Launceston
After breakfast, take a walk with a local expert through the Hellyers Road Whisky Distillery in Burnie. Continue to quirky Sheffield, the 'Town of Murals', then call in at the award-winning Ashgrove Tasmanian Farm to try a selection of local cheeses. Travel through the Meander Valley to Launceston.

Hotel: Hotel Grand Chancellor Launceston
Included Meals: Breakfast, Dinner with wine
Day 7 Farewell from Launceston
See Launceston's magnificent Cataract Gorge before taking a scenic drive through rolling hills for a private Be My Guest lunch and wine-tasting at Josef Chromy Wines. The views from the surrounding vineyards and lakes provide an idyllic location to enjoy tasting some of the estate-grown cool climate wines and tucking into some fresh local Tasmanian produce. After lunch, say farewell to your newfound friends as your holiday comes to an end this afternoon.

Included Meals: Breakfast, Be My Guest lunch
TThese booking conditions represent the entire agreement between the client and AAT Kings Tours Pty. Ltd., who is the tour operator. In will be responsible to the client for supplying the services and accommodation as described in the 19/20 brochure and on our website, except where such services cannot be supplied, or the itinerary used is changed due to delays or other causes of whatever kind or nature beyond the control of Inspiring Journeys. In such circumstances, we will do our best to supply comparable services, accommodations and itineraries, and there shall be no refund in this situation. Inspiring Journeys and its agents (collectively 'AAT') act only as an agent for the client and upon the express condition that Inspiring Journeys shall not be liable or responsible for any direct, indirect, consequential or incidental damage, injury, loss, accident, delay or irregularity of any kind, which may be occasioned by reason of any act or omission of any third party (including without limitation, any act, inaction or breach of contract of any third party which supplies any goods or services for this trip). Without limiting the foregoing, Inspiring Journeys does not own or operate any third party suppliers (with the exception of Down Under Tours) of services such as hotels, restaurants, transportation companies, sightseeing companies or local tour operators. It is not responsible for any injury, death, loss or expense due to overbooking of accommodations, default of any third parties, sickness, weather, strikes, acts of God, Government, acts of terrorism, criminal activity, war, quarantine, force majeure events or any other cause beyond its control. All such risk, loss and expense must be borne by the client. Occasionally, it may be necessary to alter or amend itineraries, accommodation and sightseeing arrangements from those published. This may be due to road, weather and other operational needs prevailing at the time, and is always made in the best interests of your comfort. Any personal expenses incurred by a client as a result of any delay, alteration or curtailment of any tour, whether caused by mechanical defect, strikes or any other cause are the responsibility of the client (we strongly recommend all clients take out Travel Insurance, see your licensed travel agent or your Inspiring Journeys direct reservations consultant). The operator is unable to guarantee exact arrival and departure times, and is not liable for any failure to make connections with any other service, or guarantee the operation of any particular service. Please note that if you arrange for payment through an unaccredited agent, the unaccredited agent is not our agent for the purpose of receipt of monies. Receipt of deposits and subsequent payments by the travel agent does not constitute receipt of those monies by us, and the travel agent has no authority, expressed or implied, to receive monies on our behalf. There is no liability on our part, in respect of any monies paid to your travel agent. The company reserves the right to cancel any ticket or booking, or to refuse to carry any client where payment has not been received by the company within the specified time. The company reserves the right to amend or cancel tours at any time.