Silo Art Trail 2021 escorted by National Seniors Travel
---
Our escorted tour around the southern outback will embark as one of the most memorable tours you will discover in 2021.
Members from: $1,555 P.P Twin ShareNon-members from: $1,785 P.P Twin ShareSolo traveller from: $1,835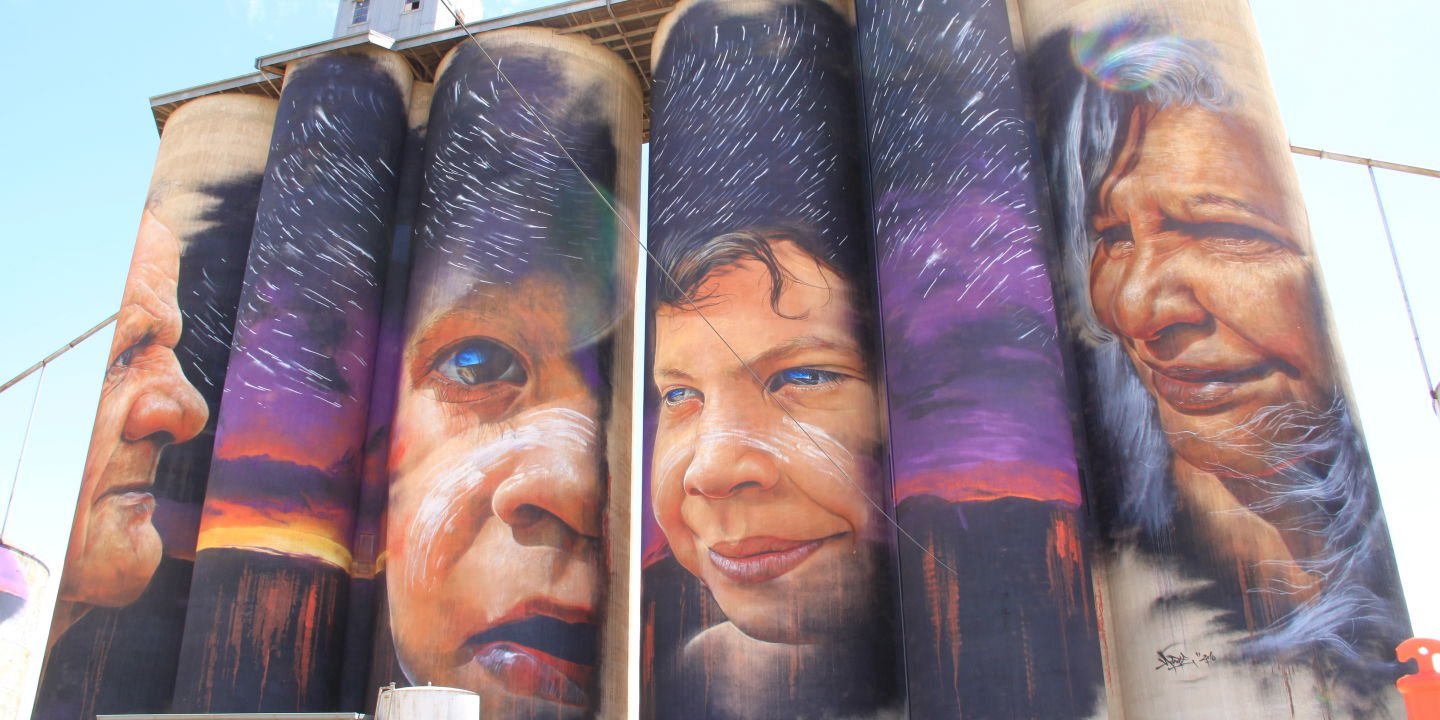 Type

Escorted Touring

Destination

Australia

Supplier

National Seniors Travel

Booking Code

NSTSAT

Departs

22 August 2021

23 August 2021
Pre and Post accommodation for interstate travellers with breakfast included.

4 nights accommodation on tour

Board one of the historic paddlesteamers for a trip down the mighty Murray River.

Care pack that includes sanisters and masks (optional
to wear)

4 dinners, 3 lunches, 4 cooked breakfasts, morning teas
from the coach

Luxury coach travel

Fully escorted with driver and hostess

All entries as per itinerary.

National Seniors Travel Escort
"Traveling – it leaves you speechless, then turns you into a storyteller." – Ibn Battuta
Billed as Australia's largest outdoor art gallery the Silo Art Trail sees disused grain silos rediscovered through a series of towering portraits that form a tour with a difference. This 5 day tour will take us up the Hume Highway to Benalla where we will head north viewing the silos at Devenish, St James, Goorambat, Tungamah, and Rochester. Enjoying a couple of days away from the silos in Swan Hill we then head west to the silo at Patchewollock before heading south and seeing the silos at Lascelles, Brim, Roseberry, Sheep Hills and Rupanyup. Our art tour doesn't just include these amazing silos, we will also visit the legendary Spanner Man and be in awe of what one man can do with his imagination and a lot of old spanners. With lots more to see than just the silos this truly will be a most memorable trip.
For interstate guests travelling on tour, pre and post accommodation is included in your price as the tour starts early and finishes late. Your travel dates begins on the 22 August and finish on the 28 August these are free days to fly in and out of the tour. Flights are not included in the price. Extension packages are available to anyone looking to extend there holiday beyond the tour.
Price breakdown for interstate and local guest:
Pricing:
Interstate Guest Prices: Pre and post accommodation has been included in your price .

Members Price:
$1755 per person members price
$1979 per person solo travellers price for members


Non-Members Price:
$1835 per person non-members price
$2055 per person solo traveller non-members price


Local members Prices (no pre and post accommodation included):

Members Price:
$1555 per person members price
$1785 per person solo traveller price

Non-Members Price:
$1630 per person non- members price
$1860 per person solo traveller non-members price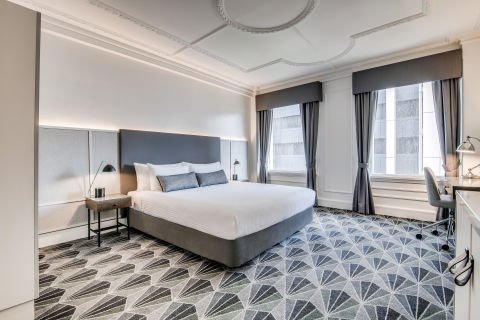 The Savoy hotel
The Savoy Hotel on Little Collins has reunited with its rich heritage. It has had many incarnations, from its origins in the 1880s to its Art Deco reincarnation as The Alexander Hotel in the 1920s, to its time as Melbourne's iconic Savoy Plaza in the 1960s.
Patchewollock
Patchewollock is a very small town in the north-west region of Victoria. It also marks the beginning of the 'Silo Art Trail' from its northern end. The GrainCorp Silos at Patchewollock were the fourth set of silos to join the Australian Silo Art Trail collection.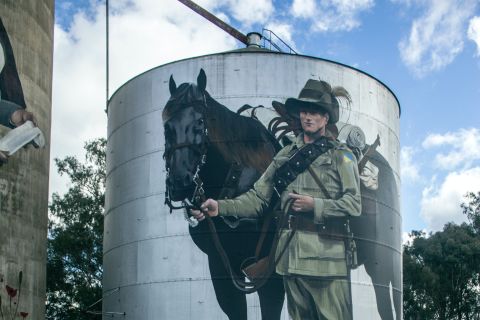 Devenish
Stage one which comprises of the two tall silos was officially unveiled on Anzac Day in 2018. Marked as a tribute to help celebrate the 100-year centenary of the end of the First World War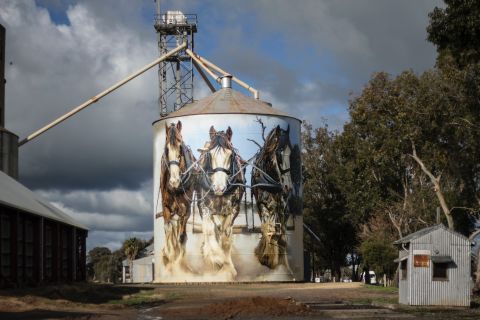 Goorambat
At the Goorambat silo complex there are three painted silos, two short ones sitting back to back and one tall concrete one standing on its own. The three silos were painted in two stages one year apart.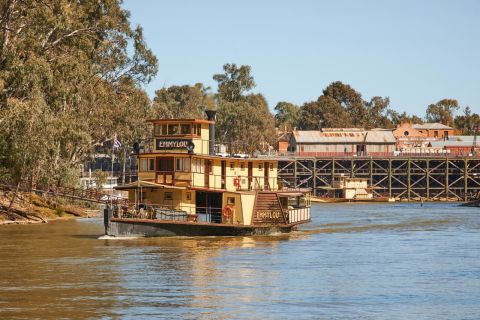 Cruise on a Paddlesteamer
Re-live the magic and romance of the Riverboat Days on the prettiest Paddlesteamer on the Murray River. Driven by a completely restored 1906 steam engine, experience the simple joy of being on board a traditional paddle steamer.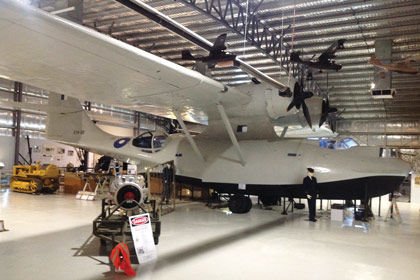 The Flying Boat Museum
Lake Boga was an integral part of allied defence during World War II, with a facility that helped to keep Australia safe – the No.1 Flying Boat Repair and Service Depot.
Sunday 22nd of August 2021 (interstate guest arrive)
For all interstate guess arriving into Melbourne today it is a free day to explore the city and hotel facilities.
DAY 1: Monday 23 August Melbourne to Echuca Moama
Interstate guest who are staying at the hotel, breakfast is included.

Tour departs The Savoy hotel at 8am please make sure you meet your National Seniors Travel escort in the foyer of the hotel no later the 7:45am. Local Guest please meet your National Seniors Tour Guide in the foyer of the hotel. This is were the tour begins.

With the ever growing number of painted silos this is our 5-day Ultimate Silo Art Trail Tour. Today to start this awe inspiring tour we make our way to Yea
for our morning stop, then we head to Benalla for lunch at own expense.

From Benalla heading north our first experience of one of these towering portraits is on a silo at Goorambat, from there it's on to Devenish, and St James, and then on to Tungamah. From there we head east to Rochester to see our last painted silo of the day. Having spent our afternoon viewing the amazing works of art that adorn these silos we head into Echuca for our first night's dinner and overnight accommodation.

ACCOMMODATION Meninya Palms, Moama
MEALS Lunch at own expense, dinner at Hotel
DAY 2: Tuesday 24 August Echuca to Swan Hill
After a leisurely breakfast in the motel, we make our way in to Echuca township where our first stop is a visit to the recently refurbished and upgraded Port of Echuca. We will be taken back in time as we get a guided tour of the port.

Following our port tour it is time to board one of the historic paddlesteamers for a trip down the mighty Murray River. With lunchtime fast approaching and prior to our departure from Echuca we head to the iconic Beechworth Bakery for our lunch. This afternoon we travel to the little town of Boort and visit the highly acclaimed artist John and Sonia Piccoli's (the Spanner Man) gardens that contain many sculptures made from farm spanners. John's works have been seen on many television programs including the ABC's 7.30 Report, and today John will give us a presentation of how he started followed by a walk through the gardens looking at the amazing sculptures. Having been amazed by his feats we reboard the coach and make our way to Swan Hill, our base for the next two nights.

ACCOMMODATION Comfort Inn Campbell Motor Inn, Swan Hill
MEALS Breakfast and dinner at Hotel, lunch at Beechworth Bakery
DAY 3: Wed 25 August Swan Hill and Lake Boga
This morning gives us another chance for a leisurely breakfast before we head to Lake Boga where we will spend the morning at The Flying Boat Museum. The museum is a Lake Boga Lions Club project and is a memorial to those who worked on and with the Flying Boats during World War II and in articular commemorates the contribution of those service men and women who were stationed at the No. 1 Flying Boat Repair Depot.

Returning to Swan Hill we visit the Pioneer Settlement for lunch and for the chance to wander through living history. Built in 1966 the Pioneer Settlement is Australia's first open-air museum and portrays life on the Murray in the era 1830–1930. After our interesting day, we return to our motel to relax and refresh. But our day is not over yet! This evening, we make our way back to the Pioneer Settlement for the Heartbeat of the Murray sound and laser show.
This wonderful sound and light show is the first of its kind and utilizes water, light, laser, sound and special effects to tell the fascinating story of the Murray – from 30 million years ago to today. The set features 20 water fountains, each of which can spray water up to 40 metres high and is fitted with individually coloured LED light.

ACCOMMODATION Comfort Inn Campbell Motor Inn, Swan Hill
MEALS Breakfast and dinner at Hotel, lunch at Pioneer Settlement
DAY 4: Thursday 26 August The Art Silo Trail
This morning we depart Swan Hill and head west to the two most northern silos on the Silo Art Trail located in Patchewollock and Lascelles. Heading south we stop at the little township of Hopetoun for lunch (own expense) before making our way to another recently painted silo at Roseberry. The silo at Roseberry was painted by acclaimed Melbourne artist Kaff-eine who before painting this silo had assisted fellow artist Rone on the Lascelles silo. Continuing our journey south down the 'Trail' our next silo is at Brim … painted by International street artist Guido Van Helten this 30 metre by 30 metre painting took three weeks to complete using spray paints and acrylic house paints.

From Brim it is off to Sheep Hills where renowned artist Adnate has painted Wimmera elders Ron Marks and Regina Hood together with a young indigenous boy and girl. The mural represents the passing of culture and knowledge from one generation to the next, especially the Aboriginal culture. Our last silo visit is in the tiny township of Rupanyup where we see the work
of Russian artist Julia Volchkova who has captured the towns youth and love of sport. After a day of this awe inspiring art we head to Horsham for our last night together.

ACCOMMODATION Sundowner Westlander, Horsham
MEALS Breakfast and dinner at Hotel, lunch at own expense
DAY 5: Friday 27 August Return to Melbourne
Once we arrive back into Melbourne interstate guest to check into accommodation and we say farewell to local guests.

MEALS Breakfast in Hotel, lunch at Flying Horse Bistro
Saturday 28 August Last day for interstate travellers
Interstate travellers check out of hotel.

Meals included: Breakfast