East Arnhem Land and the Wessel Islands
---
Discover East Arnhem Land and the Wessel Islands - a raw, rugged, ribbon like archipelago off the Northern Territory, so untouched and remote, it is very likely you will have this secluded reach of Australia all to yourself as you explore by water
Members from: $12,945 P.P Twin ShareNon-members from: $12,995 P.P Twin Share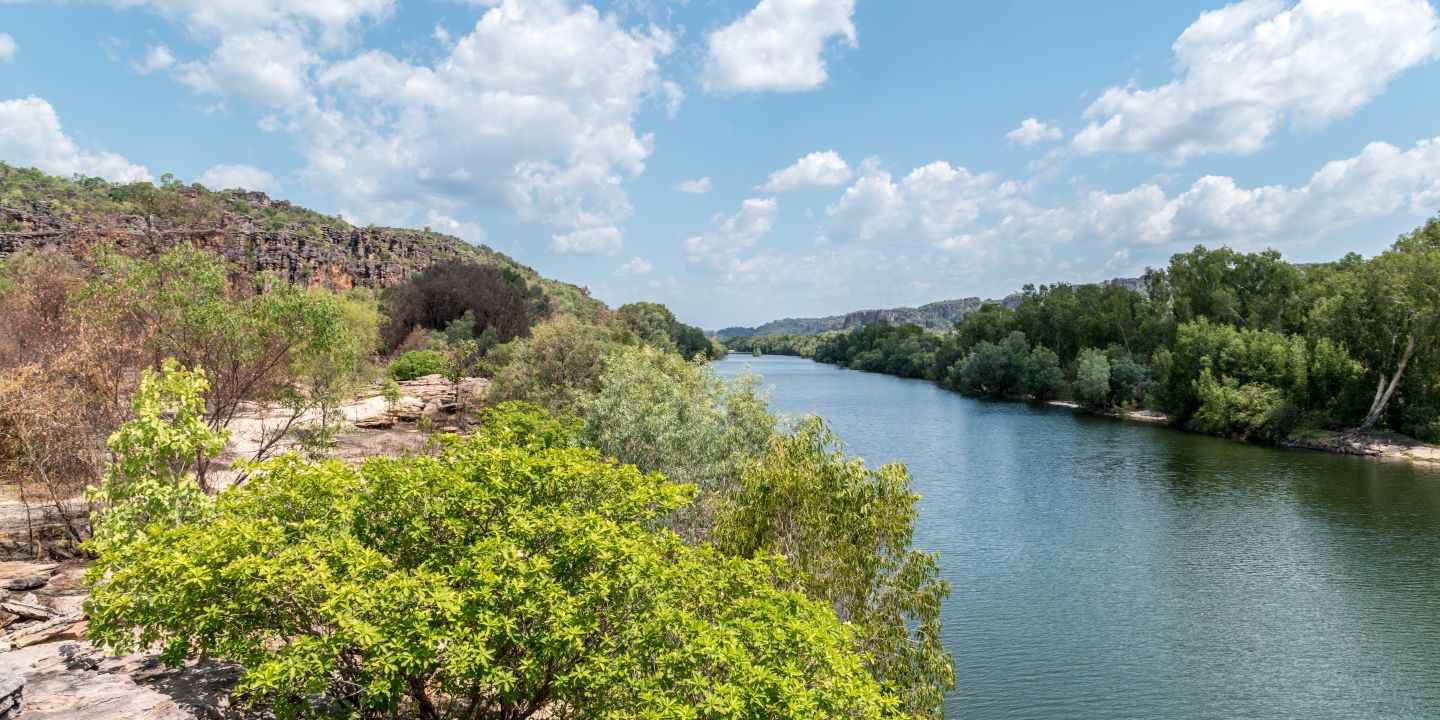 Type

Escorted Touring

Destination

Australia

Supplier

Crooked Compass

Booking Code

CCEALWI

Departs

10 March 2022

16 March 2022
Day tour with Yolngu guide in Nhulunbuy

5 nights accommodation aboard M/Y Wildcard

Breakfast, lunch & dinner daily

Beer, wine & soft drinks

Transportation in a private vehicle

On board chef

Local tour leader and full onboard crew

Activities as per the itinerary

Permits and fees for entering the homelands

Fishing equipment

Kayaks, Laundry
Discover East Arnhem Land and the Wessel Islands - a raw, rugged, ribbon like archipelago off the Northern Territory, so untouched and remote, it is very likely you will have this secluded reach of Australia all to yourself as you explore by water. Your arrival in Gove will allow you to disregard traditional maps, follow ancient songlines and delve into Yolngu land. Spearfish with locals for mud crabs, gather bush medicine and foods as you are educated on Yolngu kinship, traditional lore and language. Board the M/Y Wildcard, home of the Davey family, for 6 days exploring deep into Australia's backyard and into one of the country's greatest untouched wilderness areas. Your mind will boggle as you become family with your crew and embrace their lifestyle of barefoot luxury on the water. Sail between virgin islands, hike on stunning sand bars and off-piste trails, kayak through cascading waterfalls that tumble straight into the ocean. Be absorbed in the wilderness.
Meals prepared by our onboard cook, who takes delight in exceeding your culinary expectations. Our mouth-watering meals are not complicated, but the quality of the food will have you feeling as though you were being served at a top restaurant. They understand that you are not escaping the hustle and bustle of the real world to then encounter complicated food.
The vast tidal rivers, mangrove lined estuaries and rich coastal waters will show you a side to the Australian wilderness that you did not know existed. Your experience will move you beyond words. Primitive, uninhabited, crystal blue ocean explored in a unique style.
Welcome to East Arnhem Land! You will begin your adventures by flying from Darwin into Gove (flight not included). This flight will be a great introduction to your East Arnhem Land experience as you take in birds eye views of spectacular landscapes below.

Be met on arrival at the airport or picked up from your Nhulunbuy hotel if you have arrived early by your guide as you set off to visit culturally significant sites within the Dhimurru Recreation Area with an overview of Yol?u culture and history provided by your Yol?u guide. Embrace the culture – unchanged for over 40,000 years. Your mind will boggle as you learn that each homeland has its own creation story, personality and landscape. To be immersed in the most culturally intact Aboriginal nation in Australia is such a rare privilege.

Visit the world-renowned Aboriginal Art Centre – Buki-Larrnggay Mulka Centre, located in the Yirrkala community, which is one of the oldest and most respected Aboriginal Art centres in Australia. Enjoy exploring the interpretation of the historical Aboriginal Land Rights Bark Petitions and Church panels. There is also the opportunity to purchase some local works unique to this particular region for those who are keen to take home (or send home) some keepsakes.

Visit Daliwoi Bay and Macassan Beach which has a fascinating historical link with the Macassan sea traders. On the way to Macassan Beach, make a stop at a tree where the bark has been removed. Here your guide will explain the process of bark painting to you, and the other uses of the tree in bush medicine and daily life.

Now it's time to get hands on! Men may try their hands at spear fishing or catching mud crabs before you enjoy a picnic lunch and a chance to taste fresh fish cooked on the fire depending on the success of the men spearing a fish.

After lunch, walk through the Maccassan's stone sculptures with commentary by your Yolngu guide. Explore Turtle Beach & Little Bondi before transferring to the Gove Yacht Club w
After breakfast, you will cruise towards a local pearl farm for a guided tour. This pearl farm is so remote, that it is only accessible by water. Enjoy learning about the pearling process and see the stunning pearls grown in these waters. If the carver is on site, there may be an opportunity to witness the intricate carvings that are hand carved into the pearl shell. There will be ample opportunity to purchase some pearls or carvings for those interested. Return to the Wildcard for lunch. This afternoon, we will anchor at our anchorage point in Elizabeth Bay where we can go ashore for a relaxing beach walk. You will also have the chance to feed the Lemon Sharks and catch fresh squid from the back deck which our crew will cook for your dinner. (B,L,D)
This morning following breakfast, you will set off on a scenic voyage towards Mystery Bay through a scattering of islands and islets.

This is an experience of a lifetime. Venture into a gorgeous bay tucked away between three large islands. A long, pristine white sand beach will greet you, an almost secretive tidal lagoon will lure you. Cruise into the lagoon where you will be dropped off at the entrance to an underwater cave system. Swim through the caves and walk through caverns as you weave between ancient limestone gorges. You will emerge at the top and be greeted with a spectacular panoramic view over the entire island. Following on, you will be lead across to a beautiful set of caves all influenced by a nearby freshwater spring. During the wet season, this is a spectacular waterfall. Admire the wild gallery, with timeless art etched into cave walls. Take a dip in the fresh spring water lagoon which also enters the mouth of the cave. It really feels like time has simply stopped here. Enjoy a mini wildlife experience where you can find yabbies, and fish you won't see anywhere else in the world. Before setting off, enjoy a delicious meal served on the beach.

Now we start entering the Wessel Islands. The Wessel Islands constituted the homelands of the Nango or Yan-nhangu people. The islands were mapped and named by a Dutch expedition that sailed from Banda Neira to explore the coasts of Papua New Guinea and the South Land following up on discoveries made in 1623 by Jan Carstensz and Willem van Colster (who named Arnhem Land after his ship Arnhem). The islands were named after one of the two small vessels used on discovery voyages of the coastline, the Wesel. Learn from your crew about the fascinating history of the area you will spend the next few days exploring. (B,L,D)
Today, cruise to Picture Bay. Explore on foot as you follow a locally etched island track to reach a secret and private lagoon. Witness a picturesque waterfall flowing into the bay. The surrounding escarpment is influenced by rainforest – the backdrop is unexpected, yet spectacular. Follow the edge trail along the side of the cliffs leading to another waterfall and freshwater lagoon, where you can take a refreshing dip. Please note to reach the swimming hole, it is steep in parts and a high level of fitness is required. Spend the afternoon relaxing on board Wildcard, cruising through the beautiful sapphire waters. The sky this evening will be unlike anything you have ever seen. A true blanket of stars, more vivid than anywhere else you may have been. Take the time to star gaze and reflect upon the incredible journey you have just experienced. (B,L,D)
Enjoy breakfast on board before heading to the unique Finger Falls, which tumbles directly into the ocean. Follow a steep track to the top of the falls where you will be surprised with a scattering of natural infinity pools. For those feeling like a buzz, you may sit in the pools as the water rushes over you and falls into the ocean below. Continue across Cumberland Strait, a tidal split between two islands, and over to Hopeful Bay which opens out into the Arafura Sea, part of the Indian Ocean. Visit Australia Bay and learn about the significant historical moment which took place here. This is the location where Matthew Flinders first referred to the Indigenous people as Australian. Here, there is also a traditional Indigenous stone fish trap. The horseshoe-shaped stone walls were built in the tidal zones to trap fish as water receded allowing easy access to the next meal. The traps traditionally caught fish, dugong, turtle, stingray, shellfish and mud crabs. (B,L,D)
Breathe in as you squeeze through the Gulgari Rip, also known as 'Hole in the Wall'. Gape at the narrowness of the passage, the birdlife and the large white paint graffiti on the rock walls which has been left by previous ships. Our resident crocodile lives in these waters, and if he's feeling social, he may put on a show to allow our guests an incredible close up look. This wild prehistoric creature is truly something beautiful to witness. Farewell your incredible crew as you head back to Gove. Transfer to the airport for your onward flight. (B)



** An itinerary may at times be altered by our guides due to local conditions, the skill of participants and other unexpected circumstances such as homelands families moving around and weather. Our priority is always the experience and safety of our clients.**
All published rates are in Australian dollars and include GST where applicable and are subject to change prior to us accepting your booking. We reserve the right to increase the price of your booking following confirmation due to increases in , taxes, negative currency fluctuations of more than 5%, airline fuel surcharges or a reduction in numbers of passengers travelling below the minimum passenger numbers (see below). Prices are protected against currency fluctuation surcharges once payment is received in full, but remain subject to increase due to any tax changes or levies imposed by any government or their agencies or any airline, or due to minimum numbers not being achieved.

Crooked Compass reserves the right to correct any errors in rates quoted or calculated, or any omissions made at any time during your booking. Any verbal quote given is an indication only of the final price and is subject to confirmation in writing.
Deposit Safeguard $99 per person per tour

Crooked Compass' Deposit Safeguard (CCDS), is available to be purchased at the time of placing your initial touring deposit on new bookings for Crooked Compass small group tours.

The CCDS allows travellers to cancel their tour for any reason and transfer the value of their deposit, less any non recoverable components* to another Crooked Compass small group tour, up until 60 days prior to commencement of your Crooked Compass tour.

Alternative tours must be re-booked for travel within 24 months of cancellation or your deposit will be forfeited.

The CCDS is not combinable with any other offer and is not intended to replace travel insurance.

CCDS does not apply to the following tours:
Crooked Compass Tours by Design, Heart of Africa, Raw Namibia, Afghanistan Uncovered, Kurdistan - The Other Iraq, Uncover North Korea, Forbidden Kingdom of Saudi Arabia, Socotra - the Lost Island, Pitcairn & Her Islands Expedition, Jewels of Timor.

*Non recoverable components include products and/or services provided by third parties such as airfares, permits, visas or other items that may require pre-payment as part of our contracted obligations to deliver your tour. Non recoverable components may vary from tour to tour.