Constellation Journey: Kimberley Coast 2021
---
Join Constellation Journeys on our exclusive charter of the Coral Adventurer to explore the remote Kimberley region in Western Australia.
Members from: $10,143 P.P Twin ShareNon-members from: $10,350 P.P Twin Share
Type

Escorted Touring

Destination

Australia

Supplier

Constellation Journeys

Booking Code

CJKC

Departs

18 April 2021
All accommodation in luxury hotels

The services of Constellation Journey Leaders

Comprehensive sightseeing program including numerous 'A LaCarte' options

Bottled water whilst sightseeing

A doctor travelling on board the ship

Transfers, tipping and taxes

All meals, plus beer, wine and soft drink with all dinners and with lunch aboard the ship
Join Constellation Journeys on our exclusive charter of the Coral Adventurer to explore the remote Kimberley region in Western Australia and experience some of the most expansive and magnificent landscapes on earth. Turn your eyes upwards to the jagged, deep red ochre cliffs. Ride the remarkable tidal flows. Discover wildlife belonging to another time. Feel the power of the Kimberley's cascading waterfalls and surround yourself with the silence of secluded gorges.
This Kimberley adventure offers a powerful way to reset your soul and satisfy your urge to explore without leaving Australia. And by embarking on this adventure you'll be travelling with two Australian companies – Constellation Journeys and Coral Expeditions.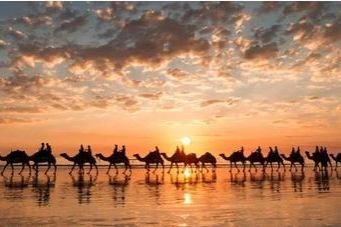 Broome
Enjoy an included night and welcome dinner at the famous Cable Beach Club in Broome.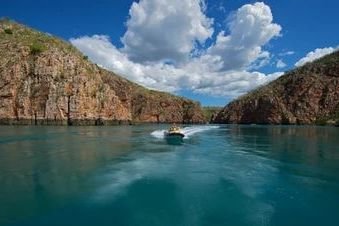 Horizontal Falls
Revel in the thrill of riding tidal rapids through the Horizontal Falls in a zodiac.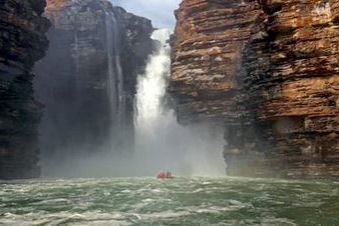 King George Falls
Cruise up the King George River toward the soaring 80m King George Falls.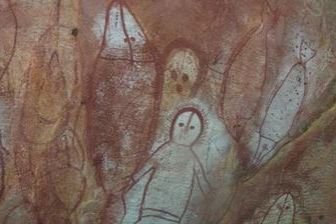 Bradshaw Rock Art
Visit Indigenous rock art galleries and learn about ancient Wandjina and Gwion Gwion art.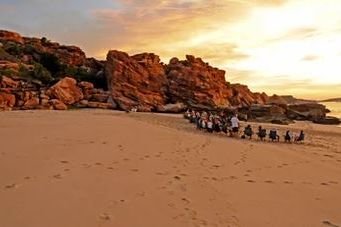 Beach Party
Enjoy sunset canapés and drinks on the beach as dusk settles over the Kimberley.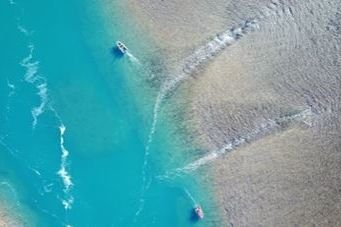 Montgomery Reef
Discover the tidal reefs diverse marine life.
Board Coral Adventurer

Take a complimentary morning tour to the Willie Creek Pearl Farm before joining the Coral Adventurer. Come together in the bar for the Captain's Welcome cocktail party for drinks before feasting on freshly prepared cuisine over dinner.
Lacepede Islands

A group of four islands known as The Lacepedes are classified a Class A nature reserve and known for their rookery of brown boobies and roseate terns as well as other species of birds. The low lying islands are also an important breeding and nesting habitat for green turtles.
Wednesday 21st April 2021
Horizontal Falls & Buccaneer Archipelago

The Horizontal Falls are created as the ocean thunders through a narrow gorge in the McLarty Ranges. As the tide changes water is forcibly pushed through the bottleneck, creating a rushing horizontal waterfall of swiftly flowing seawater.

In the spectacular Buccaneer Archipelago you'll see evidence of massive geological forces in the ancient rock formations before concluding this remarkable day with sunset drinks at Nares Point.
Raft Point & Ruby Falls

Raft Point guards the entrance to sheltered Doubtful Bay, which harbours significant sites such as the ancient Wandjina rock art galleries. Find wonder and history in the ancient stories contained within the rock art. Later, a visit to Red Cone Creek offers the active an opportunity to climb up to a freshwater swimming hole overlooking Ruby Falls.


Other sites we may visit in Doubtful Bay include the mighty Sale River and Steep Island.
Montgomery Reef

Get ready for a thrilling experience at Montgomery Reef as the sea rapidly recedes in a mammoth tide. The reef rises from the ocean in a cascade of rushing water, revealing the flat topped reef and leaving you breathless with wonder and excitement.

Opportunistic birds take advantage of the marine life left exposed in rock pools, while turtles and larger marine life may also be spotted.
Prince Regent River & Kings Cascade

Running on a fault line the spectacular Prince Regent River is accessible only by sea. The area is a haven for native mammals and birds and is our access point for the magnificent King Cascade, a terraced waterfall. Falling from a considerable height and spanning a wide distance, the water tumbles down a staggered terrace of Kimberley sandstone, surrounded by grasses, mosses and ferns. It is an iconic Kimberley sight.
Bigge Island & Careening Bay

Picture a harbour, dotted with islands lined with mangroves and monsoon rainforests, set against a backdrop of ochre hued escarpments. This is a truly spectacular location. White-bellied sea eagles and other birds of prey are often seen here and, at low tide, expansive mudflats reveal large populations of mud-skippers, mangrove crabs and even a crocodile or two.
Hathways's Hideaway & Mitchell Falls

Carved through layers of sandstone Mitchell Falls descends over four tiers, creating pools of emerald green on each level. Stand and savour the serenity of this ancient landscape. Visiting Mitchell Falls is only possible by taking the optional helicopter flight (at additional cost).

Alternatively, explore the sandstone caves of Hathway's Hideaway, a maze of weathered tunnels, arches and columns that was once an Aboriginal midden.
​Vansittart Bay & Jar Island

Vansittart Bay is home to many cultural and historically significant sites like the remarkable Jar Island Gwion Gwion (Bradshaw) rock art galleries, estimated to be around 15,000 years old. Nearby, on the Anjo Peninsula, we explore the well preserved wreckage of a US Air Force C-53 Skytrooper aircraft.
Wednesday 28th April 2021
King George River & Falls

The mighty King George River plunges over an ancient sandstone cliff into tidal waters, forming the remarkable King George Falls – 80m high twin falls. We are here at the height of the Kimberley's spectacular waterfall season, so get ready for a somewhat wet welcome as your Zodiac cruises under the mist of the falls!
Arrive Darwin

Enjoy breakfast on board before bidding farewell to the extraordinary crew who have become almost like family. Constellation Journeys will provide your transfer to your Darwin hotel (or the airport) or talk to us about staying longer in the Top End.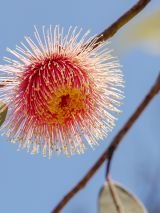 Members from: $5,975 P.P Twin Share
Prices are all inclusive, twin share per person commencing on arrival at Broome Airport on 18 April and concluding at either Darwin
airport or your Darwin hotel on 29 April.

Contact us for prices for flights to join the journey in Broome and/or for pre or post journey arrangements in Broome or Darwin.